Northshore Landscape Firm Heynssens + Grassman, Inc. Honored with 2014 "Excellence" Awards.
Chicago area landscape architecture team Heynssens + Grassman, Inc. is recognized with two "Excellence In Landscape" awards for their outdoor living designs.
Park City (Chicago area), IL, February 4, 2014 - Heynssens + Grassman, Inc. is proud to announce it has once again been honored with the prestigious "Excellence In Landscape" award for two recently completed residential projects on Chicago's northshore.
Both award-winning projects by Heynssens + Grassman express outdoor lifestyle concepts which enable Windy City homeowners to utilize their backyards as outdoor bonus rooms during the warmer months. Their approach is to provide a fresh-air equivalent to the home's interior spaces that are just as comfortable, well-planned, and elegantly furnished – with a selection of amenities and finishes that are in step with today's custom home interiors.
The two award-winning projects contrast each other in that one is an updated 1900's frame house on a typical size urban lot, while the other is a more contemporary home situated on wooded acreage. Those factors presented distinct challenges in terms of how privacy was achieved, how spaces were strung together, how elements were fabricated, and how harmonies and scale translated. The more urban of the two projects, entitled Shades of Summer, has a surprising variety of shrubs and perennials in the front garden to achieve a tailored look, but with color. The backyard offers a compact food prep and grill area, bar seating for 4, a dining area, a fountain feature, and a sunken lounge area with two large sofas in front of a stone fireplace. Smaller scale shrubs and trees provide plenty of low-maintenance greenery and screening from the neighbors.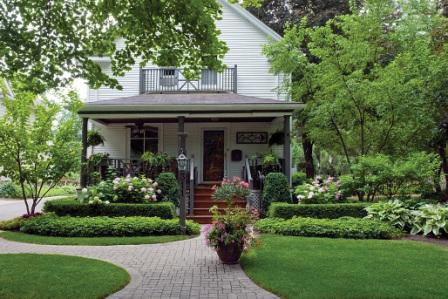 The second project, called Organic Rhythm, is a large wooded property treated with a more linear arrangement of spaces across the wide footprint of the house. A choice of seating areas around the back of the house are arranged at different levels – to accentuate a particular view, alter how groups of people gather together, or emphasize a closeness with nature. Comfortable for large parties as well as a cozy twosome, the outdoor living area features a state-of-the-art grill, dining area, circular fire pit with casual seating, waterfalls in both the front and rear, and a roomy outdoor lounge with oversize sofas and armchairs arranged in front of a large stone fireplace. With floor to ceiling windows, the homeowners can enjoy the naturalistic setting even during inclement weather.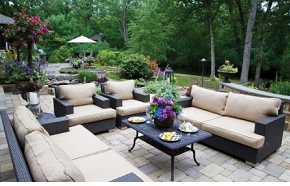 The firm has won more than 10 awards in as many years for their landscape design-build projects and maintenance services. The "Excellence In Landscape" awards are presented annually by the Illinois Landscape Contractors Association (ILCA), one of the country's largest and most esteemed professional associations in the landscape industry.
###
The Company
Heynssens + Grassman is a full-service landscape company offering design, installation and maintenance of properties throughout Chicago's northshore communities. The firm is a long-standing member of the ILCA, the Illinois Chapter of the American Society of Landscape Architects, and the Lake Forest-Lake Bluff Chamber of Commerce. In addition to earning many awards, their work has been featured in the Garden Conservancy's Open Days summer tours, Architectural Digest magazine, Chicagoland Gardening magazine, West Suburban Living, and other publications.

The ILCA Awards
Judged by a diverse panel of landscape professionals and educators, the ILCA's award-winning projects showcase some of the Chicago area's most beautiful public and private gardens and outdoor spaces. The public is invited to view the traveling photo exhibition featuring all gold-award winning projects as it rotates between notable venues such as the Merchandise Mart, Morton Arboretum, Chicago Botanic Garden, Cantigny, Chicago Flower & Garden Show, Klehm Arboretum in Rockford, Oak Park Conservatory, as well as quality retail garden centers.