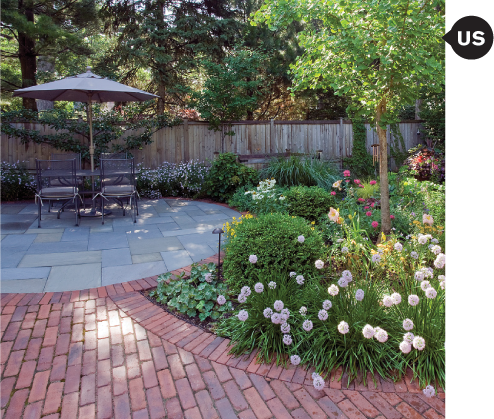 If you have been thinking about a landscape project for your home, now is the time to find the right designer and contractor, one that fits your style and budget.
PLAN IT ONCE. ENJOY IT FOREVER.
Heynssens + Grassman, Inc., a husband and wife team of landscape architects, has been practicing their art throughout the northern suburbs of Chicago for over 20 years. They have built hundreds of gardens, from perennial borders to entire compositions of trees, shrubs and flowers complete with gazebos, water features, and stone terraces.
Their experience in seeing the potential in a piece of property, whether large or small, urban, rural or suburban, in understanding the impact of new construction, the possibilities that accompany remodeling, what it takes to create a garden that will age gracefully, will allow you to achieve your long-term goals while making a realistic investment in your property.
Whether your goal is to construct an elegant stone terrace for entertaining, a tidy brick patio for gardening, or a cozy wooden porch for lounging, Heynssens + Grassman, Inc. can make those places a reality. They have the expertise to design and implement a durable brick driveway, a curving stone walk, or soft gravel path. They have built quaint garden gates, romantic rose arbors, and all-purpose gazebos. Included in their portfolio are numerous custom swimming pools, natural lily ponds, and sculptural water features. If it is personal service, unique design solutions, and competitive construction costs that you are looking for, take a moment to call Heynssens + Grassman, Inc., at 847.360.0440.